Hi, my name is Rizan I decided to start an Egyptian food site after my mom was very ill and spent an extremely long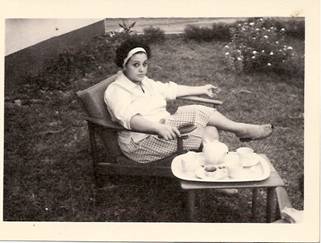 and laborious time in hospital. It occurred to me, at some point that there were so many recipes (=memories) locked away in her mind that I could potentially lose. I have since decided that I wanted to save and document these recipes, to have them, to taste her cooking and of those before her. Those that taught her how to cook, Anaa and Neyna (my Grandmother and Great Grandmother)! I hope to add family recipes contributed by of course my Mom, the cook, Great Aunts, Cousins and Friends, if of course they would be kind enough to participate and share some of their all time fav's and comfort food.
Just a bit about me, I was born in Cairo, Egypt (many years ago…) and have lived in the United States since 1969. Egyptian food of course has always been a part of my life, with the added bit of other foods that I love. Indian, Thai and Sushi, yum.., three of my favorites! I especially enjoy spiced and SPICY food but, no fear I find that I am the black sheep when it comes to my love of HOT, HOT food. Thank Goodness for you! Food for me is a hobby, I love to eat and try new things, and not much scares or puts me off!
Now I am in hope of collecting many recipes to try and to share, not only for me but, also for our younger generation, that they may not lose a recipe today but, in years they will yearn for the taste of that something that was so special and comforting to them! Please join in and share your food for memories.
Ma, this is for you! Thank you for having the will to visit with us a bit longer, love you! Rizan