Anaa Heda's Kharshouf Mahshi (Stuffed Artichoke)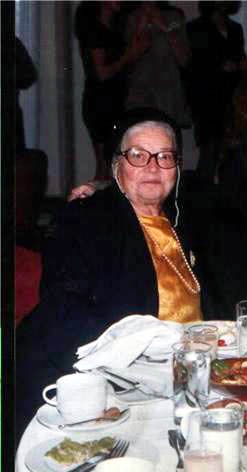 This was my grandmother's recipe, one of my mom's favorites. Anaa was one of the best cooks in the family!
Serves 4
*4 large cleaned fresh artichokes, may use frozen
1/2 cup rice
1 onion finely chopped
9 garlic cloves (6) minced reserve 3
Salt and pepper
1/4 lb ground beef
1/2 bunch dill finely chopped
2 tbsp Italian parsley finely chopped
2 tbsp tomato sauce
Juice of 2 1/2 lemons +for cleaning process
1/2 cup olive oil
Wash and drain rice. Combine onion, garlic salt and pepper and smash well with your hands to release the juices.
Mix rice, beef, onion mixture, dill, parsley, tomato sauce and lemon juice. Mix ingredients well.
In a bowl add water, salt and lemon juice, use this bowl to place your *cleaned artichoke while you are cleaning the remaining (reserve the stalks).
Stuff meat mixture tightly into the artichoke heart and wrap each artichoke separately in wax paper.
In a pot (pot should hold artichokes snugly ) add the reserved sliced/peeled stalks, 3 gloves of garlic, olive oil, hot salted water (fill just to cover) and 1/2 a lemon, juice and all.
Invert a plate over the pot, cover and bring to a boil. Reduce heat to medium low and simmer for about 90 minutes. Add water as needed.
Note, this recipe can easily be doubled, tripled etc....normally my grandma would have cleaned/cooked a boat load of these! Additionally, you can certainly use frozen artichoke hearts but, this was Anaa's recipe and I wanted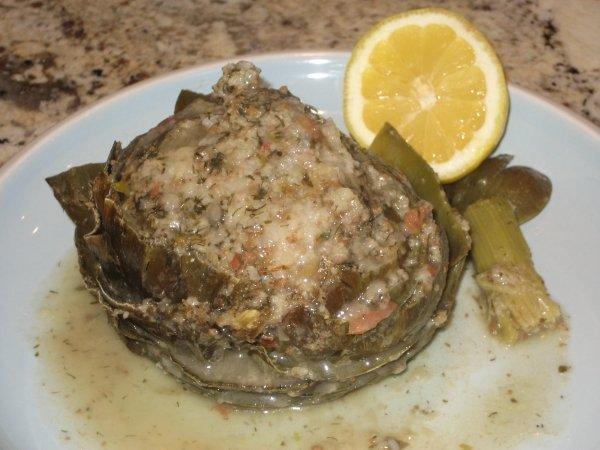 to present it as she used to prepare it.

*for cleaning the artichoke please see entry under "how to"!