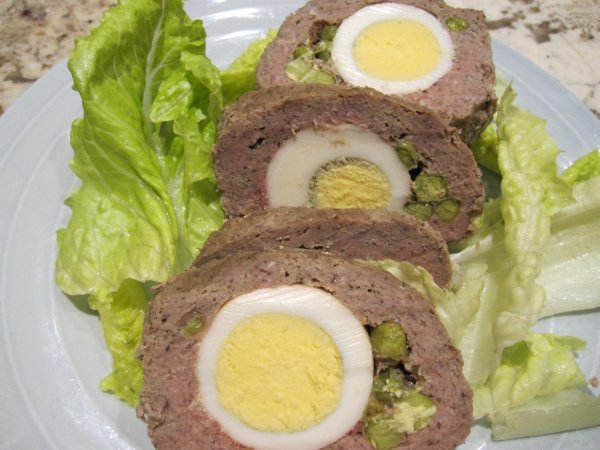 Beid scottlandy (beef roll with eggs)
Literal translation of this dish is Scottish eggs, Egypt's twist on this traditional British dish, scotch eggs!
Serves 6
7 eggs – 1 reserved
1 large onion
salt
pepper
1/8 nutmeg
1/8 ground cardamom
1/2 tsp allspice
1 1/2 pound ground beef
1/4 cup oil
1 cup frozen peas
pinch of chili powder
preheat oven to 350
cover 6 of the eggs with water in a pot bring to a boil for two min. Then turn off heat, the eggs will cook while cooling
in a food processor chop onion till very soft. In a large bowl combine onion, spices, beef and stir with the remaining egg, put back in the processor and pulse 15 times.
Cut parchment paper or foil to about 12x20 diameter and cover with oil, you need a big enough rectangle to fit the meat. Turn the meat dough on the paper and flatten with wet hands to size of about 10x12.
Peel and dry the eggs, arrange them on the beef one after the other to form a tight row. Spread the peas and arrange around the eggs sprinkle with salt, pepper and chili powder. Lift one end of the paper and roll the meat Swiss roll style, make sure peas are tucked in and you have a nice tight roll. Be sure ends are sealed. Place the roll on another sheet of paper. And place on an oiled baking dish. Bake at 350 for about 1 hour. Let cool for about 1/2 hour and then slice and serve.