Basbusa (Semolina Cake)
This is Beela's recipe, my Great Aunt, she is probably one of the BEST cooks in t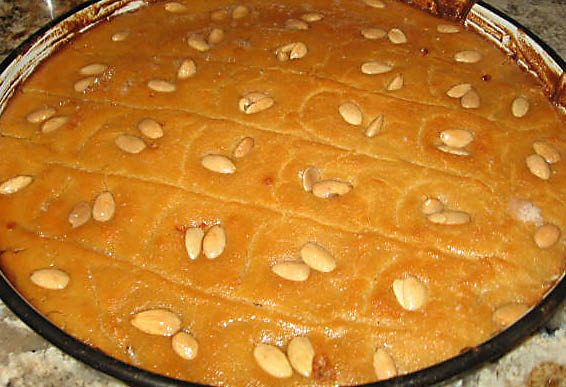 he family! I'm anxiously awaiting her recipes via my cousin (her daughter) Suzi. As a youngster I used to love to watch her cook there was a magic that occurred. The way her hands touched and met the food, how the food somehow sat in anticipation of her touch. Somehow a strange understanding between the two, she and whatever beautiful ingredient she chose for the days meal.
I do hope I didn't get any aspect of this recipe wrong.
5/19/09, I received a call this morning from Egypt. One of my cousins called to let us know that Beela had passed away just a few hours ahead. My heart is heavy with her loss and for the pain my cousins, her kids are feeling. The cycle of life!
1 cup yogurt
1 cup sugar
2 cups semolina
1/2 pound butter (divided)
1 tsp baking powder
1/2 cup of coconut (optional)
1 tsp vanilla
1 tbsp tahinah (sesame seed paste)
1 tsp ghee
almonds halves for garnish

preheat oven to 350
mix first 7 ingredients with 1/2 of melted butter. In a baking dish (we prefer round of 12") cover the bottom with the ghee and the tahinah,
spread the mix of semolina on top leave let sit for about 1 hour. Cut into diamond shape and put two almonds on top of each piece.
Bake in 350 oven about 45 min or till pink color
syrup
1 1/2 cup sugar
1 cup water juice of
1 lemon juice
1 tsp rose water (optional)
combine all ingredients, bring to a boil, then simmer for about 15 minutes, add the other half of the butter. Allow syrup to cool.
Drizzle on top of the cake
note that the syrup must be at room temp before pouring over basbusa.
Pour syrup and serve with tea or coffee (we like to serve it warm) you can top with cream whip or cream fraiche.