Batates Fil Forn (Potatoes Baked with Beef)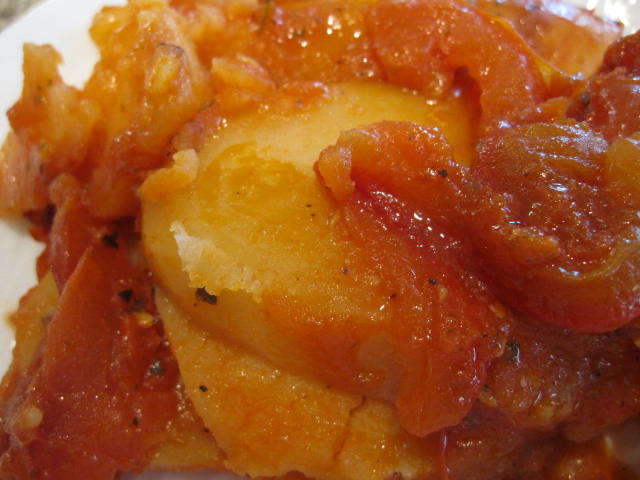 This is a very filling, tasty and comforting dish. The dish is always served with with rice.

Serves 4-6
1 lrg onion sliced into 1/8" rounds
6 garlic cloves minced
2 tbsp salt
1 tbsp pepper
3 lbs (6-7 medium) potatoes sliced lengthwise to 1/8"
2 lbs beef, such as sirloin, chuck roast or bone in chuck
2 tomatoes sliced
16 oz tomato sauce
4 cups water
2 lrg tbsp crisco

Preheat oven to 400
In a Pyrex or baking dish place onions, garlic salt and peeper and squeeze the ingredients very well, you want to release some of the waters and break down the onions.
Add the sliced potatoes to the onion mix and combine well.
Top the potatoes with beef and rub with a bit of salt and pepper (go lightly as you have already salted the onion mix)
Layer the sliced tomatoes onto the beef, add the tomato sauce and water. Shake baking dish so sauce and water are dispersed evenly within the dish. Divide the crisco into 6 pieces place around the dish and bake for 90 min or till potatoes are bubbly and very tender.