Chakshoka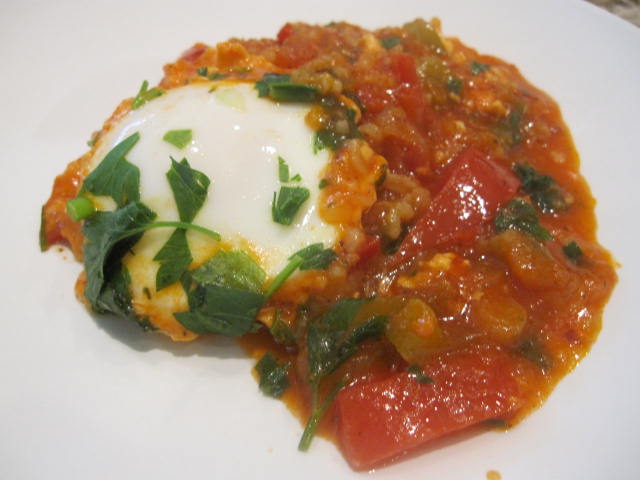 This recipe calls for rice which may sound strange but, it truly is a yummy dish. Give it a try!
Serves 3
Olive oil
1 onion chopped
3 large garlic gloves minced
Salt and pepper
Pinch of allspice
1/4 cup Italian parsley finely chopped
1 8 oz can tomato sauce
16 oz water
1/4 rice
6 eggs

In large pan add enough olive oil to cover bottom of pan, to the heated oil add onions, garlic, salt, pepper and allspice and cook till translucent. Stir in parsley and continue to cook 2-3 min's over med flame. Add tomato sauce and water simmer for about 5 minutes, check seasoning. Add rice and cook on medium low till rice has cooked about 15-20 minutes, add water as necessary, this should be rather saucy.
In a plate break eggs and gently drop them 1 at a time into the sauce, raise temp to medium cover pan cook 2 3 minuets until the yolk is covered by the egg white.

uncooked cooked