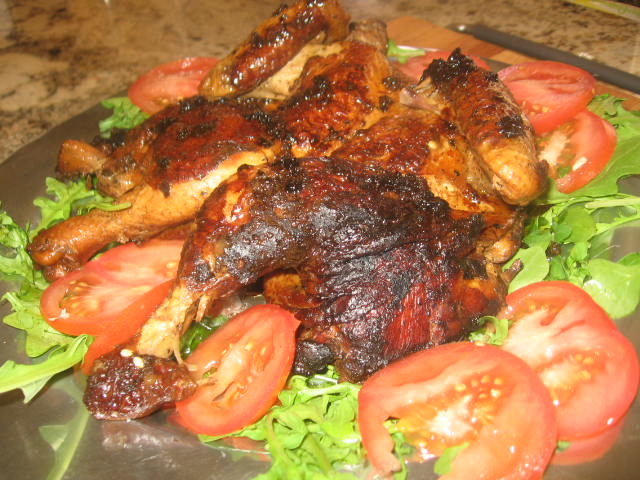 Chicken kulbasty (chicken grilled stove top)
Serves 4
1 whole chicken cleaned, pat dry and cut open from the back
1 onion
2 cloves garlic
salt pepper
1/4tsp allspice
1/4 tsp cardamom powder
1/4tsp nutmeg
1/2tsp dried sage
1/2 tsp dried basil
2 tsp vinegar
2 tbs oil
1 cup water +
mix onion, garlic, spices and vinegar in a food processor to create a paste. Thoroughly rub the chicken with the paste and massage, also rub under the skin. Leave to marinate for at least 20 minutes.
In a heavy pan heat the oil, add the chicken skin side down and top with a heavy item to keep it flat. Cook about 7 min on med
heat to sear. Flip over and repeat. Cook till chicken is nicely browned (do not burn), add 1 cup water simmer for about 20 min. Turn over and simmer for about another 10 min. Or till chicken is cooked thoroughly add more water if needed. You will have a very thick sauce to drizzle atop the chicken.