Chili Verde (pork in green chili sauce) spicy!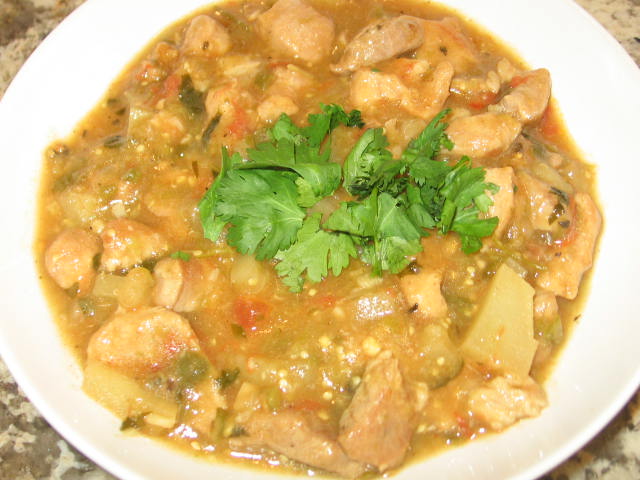 Serves 4-6
1 1/2 pork cut into small cubes
1 tbs flour
salt & pepper
1/4 tsp cumin
1/4 coriander
1/4 oregano
2 tbs oil
1 onion diced
3 to 4 garlic minced
1 tomato diced
8 tomatillo's diced
2 Anaheim finely chopped
2 jalapenos pepper finely chopped
1 habanero optional finely chopped
1 1/2 to 2 cups broth
1 potato cubed 1"
1 bay leaf
cilantro for garnish
season the flour with the spices coat meat. This is easiest to do in a plastic bag.
Heat 1 tbs oil add meat to brown remove from pot and set aside.
In the same pot add remaining oil salute onion and garlic till translucent, add tomato, tomatillos and peppers.
And meat stir well to incorporate all ingredients. Add broth, potato and bay leaf, stir bring to a boil, reduce to med heat to simmer adjust seasoning cook for about 45 to 60 min. Sauce should be rather thick, so if necessary you may need to add a bit more flour. Garnish with cilantro and serve with Mexican rice and tortillas.
This dish can also be prepared using beef or chicken.