Eggah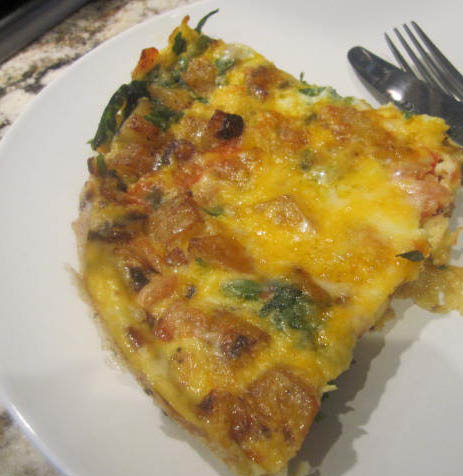 This is a lovely and satisfying omelet, great eaten anytime of day.
Serves 4
6 eggs
1 tbsp flour
salt & pepper to taste
1 lrg onion diced
5 tbsp oil (reserve 3 tbsp)
1/2 bunch parsley chopped semi fine
1 tomato diced
1/2 green bell pepper diced
pre heat oven on broil
in a bowl mix eggs salt, pepper and flour, set aside.
Sauté onions with 2 tbsp oil till just translucent, add parsley, tomatoes and bell pepper cook
over medium heat for approx 3 min's, remove from flame and set aside to slightly cool.
Mix egg mixture with vegetable mixture.
In a non stick large pan add remaining 3 tbsp oil, once hot add the egg/veg mixture.
Shake mixture around pan till all liquid is evenly coated. Once bottom of eggah is cooked place pan
under broiler for 2 to 3 min's till top is browned.