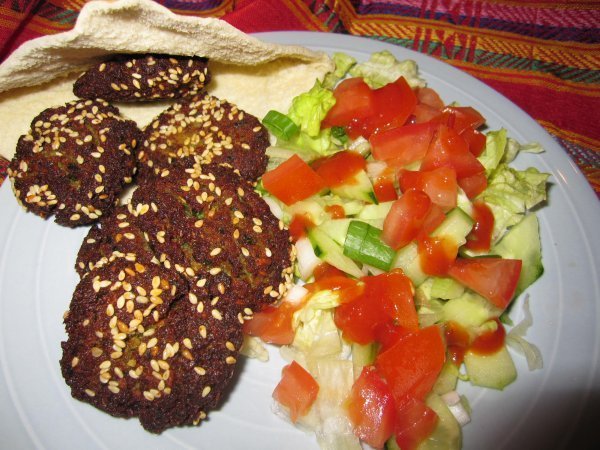 Falafel

2 cups of dry fava beans soaked 24 hours
1 cup garbanzo beans soaked 24 hours
1 1/2 tbs cumin
1 tsp chili pepper
1 1/2 tbs coriander
2 tsp salt
1 tsp pepper
1 bunch of parsley
1 bunch cilantro
1 large onion
6 or 8 large garlic cloves
2 cut scallions
1/4 cup bread crumbs if needed
1 tsp baking powder 20 min. Before frying
1 egg
oil
1 tbs of sesame seeds in a small plate

In a food processor mix first 12 ingredient and process until fine but not watery you need a mix that has body, if too wet add the bread and mix very well. At this point you can divide portions into little bags and freeze
when ready beat the baking powder and the egg, mix with falafel mixture and let stand for about 20 minutes.
Meanwhile in a deep pot heat 3 to 4 inches of oil to about 340 degrees if you have a thermometer or fry a piece of bread till it turns red then oil is ready.
Turn the heat to medium, using a falafel tool (from an Arab market) or with your hand shape the falafel into small balls, don't work the dough too much and don't compact. Dip one side into the sesame seeds, carefully drop into the oil for about 1 minute make sure you turn the balls around until nicely browned, remove to a plate lined with paper towels.
Serve with pita bread, tahinah, tomato salad and hot sauce if you like.