Fattah bel kahl wa thome (rice with ox tail in vinegar sauce)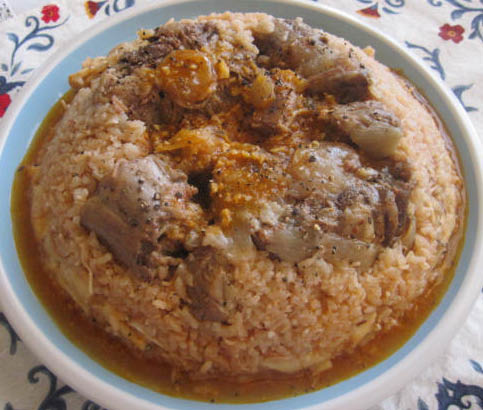 This is a very common Egyptian dish. Amazing what people can do when they only have rice, bread and left over meat bones, extremely tasty and very filling, I especially love gnawing on the ox tails! I know I've made reference to national dishes in the past, well here is another.
Serves 6
2 or three pounds of ox tail (you may use any boned in meat if you prefer but, ox tail will give you very delicious broth)
kosher salt
1 tomato quartered
1 large onion quartered
2 cardamom pods or 1/2 tsp powder
2 pieces mastic
2 bay leaves
2 tbs of butter
7 or 8 large cloves of garlic minced
salt, pepper
1/2 cup vinegar
2 tbs tomato paste
4 cups broth
3 or 4 pita bread quartered and toasted in oven
2 cups of cooked white rice (see basic rice recipe)
Rinse ox tail and soak in water and salt for about 1 hour, rinse several times.
In a large pot cover ox tail with water, bring to boil; reduce heat to medium low, removing scum as needed.
Add tomato, onions, cardamom, mastic and bay leaves, let simmer for about 1 to 1 1/2 hours, add water as needed. Strain broth and set aside.
Prepare the garlic sauce
in a frying pan melt the butter add the crushed garlic with salt and pepper, fry till browned. Add vinegar let boil once add tomato paste, add 1 cup broth, adjust seasoning. Keep hot.
Assembly
tear the bread to small pieces arrange on a plate and add 2 cups of broth, and 2 tbs of vinegar sauce.
In a large bowl arrange ox tails, cover with 1/2 of the rice and add 1/2 cup of broth and 2 tbs of vinegar sauce. Spread the soaked bread and add the remaining rice, pack well with the back of a spoon. Use remaining broth if you like.
Invert onto a platter, larger than the bowl. Do this by holding the platter firmly over the bowl and quickly flip bowl into platter with other hand.
Pour remaining vinegar sauce over fattah. Serve with salta balady (see entry under salad).