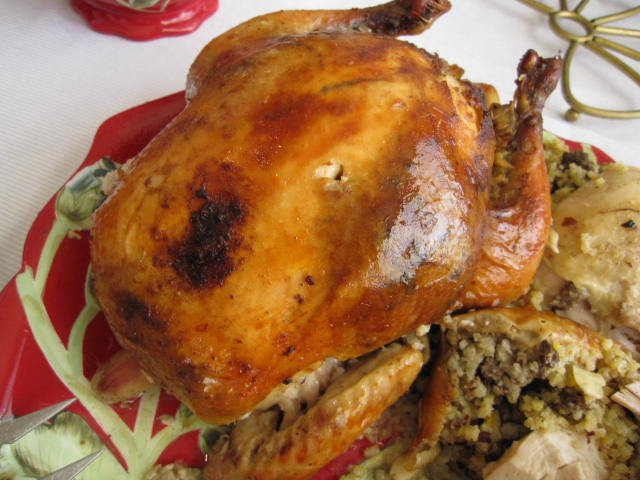 Firakh mahshi (stuffed chicken)
Serves 8
2 large chickens
1/2 cup pine nuts
1/2 cup almonds or pistachios
1/2 cup of ghee
small onion chopped finely
1 tsp garlic
1/2 pound ground lean meat
salt & pepper
2 bay leaves
1/2 tsp. Cinnamon
1/2 tsp allspice
1/2 tsp cardamom powder
1/2 tsp saffron threads
1 cup short grain rice
1 1/2 cups water
2 tbs of butter
1 tbs flour
Thoroughly clean chicken and dry very well.
In a pan fry the nuts till rosy, remove from pan.
Preheat oven to 350
Heat ghee add onion stir 1 min , add garlic, meat salt, bay leaves and half the amount of spices, stir for about 5 min till no blood remains. Add the rice and water bring to boil then simmer for about 25 minutes till cooked. Stir in the nuts, let cool.
Mix the butter with 1/4 tsp of salt, pepper, and remaining spices. Massage the chickens from the inside with half the butter.
Divide the rice into two portions and stuff the 2 chickens sew closed and truss the wings. Make sure the rice will not escape.
With remaining butter massage the chicken skins and place in a baking dish and bake in 350 degree oven for about 2 to 3 hours or until the stuffing reaches 180. You may need to cover the chicken with foil if it starts to turn too red.
Remove the chickens to a platter. Add flour to the drippings stir and cook for about 5 minutes till thick. Skim the oil and serve the gravy in a bowl with the chickens.