Samak mashwe bil radah (grilled sea bass with bran) please don't let the picture scare you off.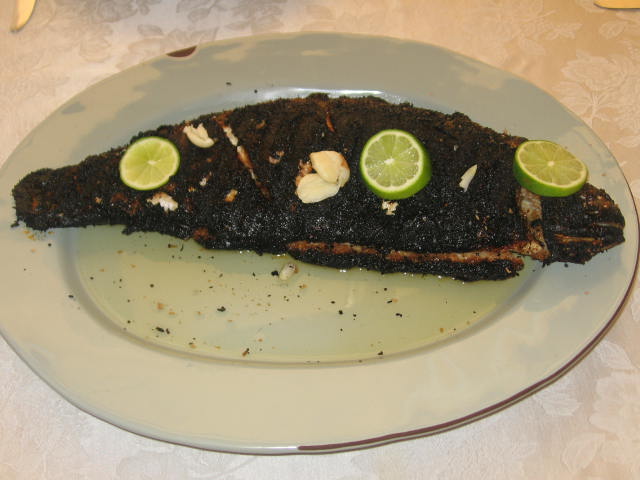 Serves 4-6
this is a really nice way of grilling fish. The bran allows the fish to cook while keeping it nice and moist inside. The finished product as you can see isn't the most attractive dish to look at, the charred bran and all! But, it does get removed before serving. What you're left with is a perfectly cooked whole fish that is very moist.
1 large fish about 3 to 4 pound cleaned and cut from the side
10 garlic cloves
1tsp cumin
1tsp salt & pepper
juice of 1 lemon juice
1 cup bran (radah)

second marinate

1 cup vinegar
4 or 5 crushed garlic
1/2 cup water
salt & pepper
1/2 tsp cumin
1 chili pepper finely sliced (optional)
on both sides of the fish cut 3 or 4 slashes into the flesh of the fish.
Mash together the garlic, cumin, salt, pepper and the lemon juice
place the garlic mix into the fish cavity and into the slits. Refrigerate and leave to marinate for about 30 min.
Heat barbecue to 5oo
cover fish thoroughly with the bran. Place on the grill for about 6 min. The bran will charred
turn the fish very carefully and grill for another 6 to 7 min until fish is cooked, flesh should be opaque in color.
While grilling the fish, combine the vinegar, garlic, salt, pepper, cumin and chile allow to boil and reduce cooking for about10 min. When fish is ready, pour the vinegar mixture over the fish. Remove the bran coating before serving.