Kebdah (veal liver)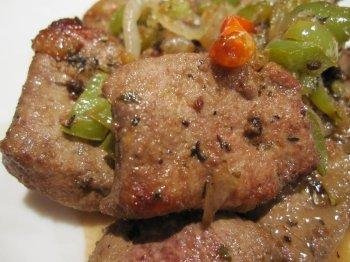 What can I say, you either love it or hate it, I happen to love it.
Serves 4
1 pound liver
2 tbs olive oil
1 onion sliced
1/2 small bell pepper sliced thinly
1 chilly pepper (optional)
salt & pepper
1/2 tsp cumin
1/2 tsp coriander
1tsp garlic powder or 3 cloves mashed
1/4 cup vinegar
in a fry pan heat the oil add all ingredients except the liver, sauté for
about 4 minutes. Mean while cut the liver into bite size pieces.
When onion and bell pepper are cooked add the liver and stir cook for about 5 to 6 min till opaque and no blood remains.
Don't over cook or liver will get tough. You should be left with a bit of nice gravy.
Serve as side dish (meza) or main course with salad and rice or noodles.