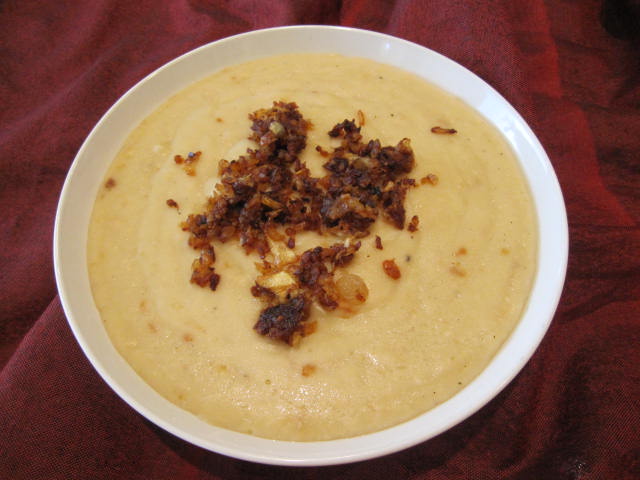 Kishk (yogurt cooked with chicken broth and garlic) Another very traditional Egyptian dish!
1 cup flour
2 cups yogurt plain (preferably a day or 2 old)
1 tbs rice soaked for about 1 hour
broth
1 large chicken cleaned and dried
1 large onion quartered
1 tomato quartered
2 cardamom pods
2 mastic
1 bay leaf
salt & pepper
1 can chicken broth or bullion (if needed)
remaining ingredients
3 large tbs ghee or mix of ghee and butter
1 large onion sliced
5 large cloves of garlic crushed
1 tbs of lemon juice
1/2 tsp of salt
1tps of olive oil
sauce
1 tbs of olive oil
3 cloves of garlic finely minced
1/2 tsp of vinegar
8 oz can tomato sauce
1/2 cup water
salt and pepper
In advance mix the yogurt and the flour to make a smooth paste leave for few hours or over night at room temperature.
Place chicken in pot and cover with water, bring to boil and remove the scum as it forms. Add onion, tomato, cardamom, mastic, bay leaf, salt and pepper bring to boil. Reduce heat allow to simmer for about 45 min till chicken is done. You will need at least 5 cups broth, add water as needed you may also add bullion or chicken broth. Remove the chicken strain broth through a sieve.
Allow broth to cool a bit. In a large bowl add 2 cups of the broth to the yogurt mixture mix well add more till no lumps remain. You will have a rather thin past like mixture.
In the soup pot add the ghee and fry the sliced onion till golden in color don't over cook. Remove the onion from the pot, set aside. Add the yogurt mixture 2 additional cups broth, garlic and rice bring to a boil continuously stirring, reduce heat and simmer for abut 30 minutes till garlic and rice are cooked, continue to stir. Mix should have consistency of pancake mix and be thin, add more broth if needed.
Ladle the kishk into flat bowls and top with some of the fried onion. Let kishk set for about 20 minutes.
In small pan heat oil add the garlic sauté for 2 minutes, add vinegar, tomato sauce, water, salt and pepper simmer for about 10 min.
Separate cooked chicken into desired portions, place in baking dish, mix lemon, salt and olive oil, rub on chicken and bake in a 350 pre- heated oven till reddish in color.
Serve kishk with rice, chicken and red sauce.