Kobibah saniyeh (cracked wheat with meat)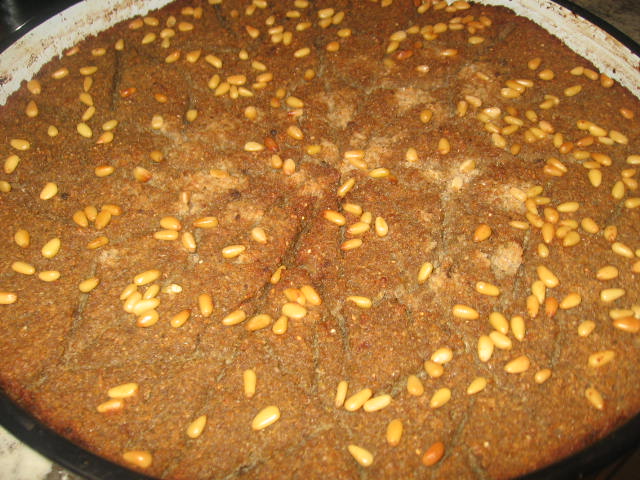 Serves 6
The kobibah dough
1 large onion quartered
12 oz burgle #1 ground (cracked wheat) rinsed and drained well
1 lb ground beef
1/2 lb lamb
salt & pepper
1/2 tsp allspice
1/2tsp cinnamon
1/4 tsp nutmeg
pinch ground cardamom
preheat oven to 350
in a food processor add the onion and process till minced very well transfer to a bowl, add the burgle, ground meat and the spices. Mix very well. Add back to the food processor about 1/3 at a time, mix thoroughly, you will have a nice playable dough. You may add few drops of water
if it feels too dry, don't over process.
For the stuffing
2 tbs Crisco or ghee
1/4 cup pine nuts
1 large onion chopped
1 pound ground beef (you could use a mix of lamb and beef)
salt & pepper
1/2 tsp of allspice
1/2 tsp cinnamon
1/8 tsp nutmeg
pinch of cardamom
3 tbs of melted Crisco or olive oil
1/2 cup pine nuts (divided)
In a fry pan heat the margarine, add 1/2 the pine nuts and roast till just pink, remove from pan and set aside. To pan add onion and sauté, add meat and spices cook for 10 min or till meat is fully cooked. Add the roasted pine nuts and stir.
In a 12" round tray or baking dish cover bottom with 1 tbs of oil take 1/2 of the dough and flatten it into the bottom of the tray about 1/4" thickness, the dough is easier to work with if your hands are moist. Spread the cooked stuffing on top of the dough. Then with the remaining half do the same as above, adding a small piece at a time, flatten and cover the entire stuffing. Keep hands moist through the process and make sure
you have an even layer on top. Spread with the remaining oil while pressing firmly. Cut into the shape you like or little diamond see picture above. Spread with reserved pine nuts again press firmly. Bake about 40 to 50 min till cooked and kobibah has achieved a nice brownish color.