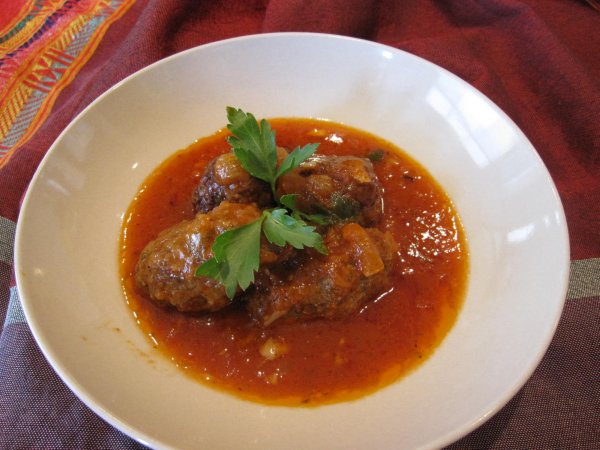 Kofta bil roz (meat balls with ground rice)
Serves 6-8
Beef dough
1 1/2 lbs ground beef
3/4 cup rice ground (grind in a coffee grinder dedicated for spices or store bought)
1/2 bunch parsley
2 tbsp fresh dill or 1 tsp dried
1 onion
4 cloves garlic
salt & pepper
1/2 tsp allspices
Tomato sauce
1 tbs of Crisco or olive oil
1 small onion finely chopped
4 or 5 cloves garlic chopped
salt & pepper
16oz of tomato sauce
1 cup hot water
1/2 cup oil

Mix all beef dough ingredients in a food processor for about 1 minute to form dough. Let rest for about 15 minutes in the refrigerator.

In a medium size pot heat the oil sauté the onion, add garlic, salt & pepper stir till pink in color. Add tomato sauce and water boil for 1 to 2 minutes
reduce heat and let simmer.
Shape the meat dough into the size of golf ball. You will have about 22 balls then with wet hands roll into finger like shape.
In a frying pan heat oil and add the meatballs (don't over crowed). Fry till fully cooked.
Add cooked meatballs into the sauce and boil for about 2 minutes. Serve with rice.
Note: you may also prepare a smaller meatball and serve as appetizer or you can serve without the sauce if you like.