Kebabs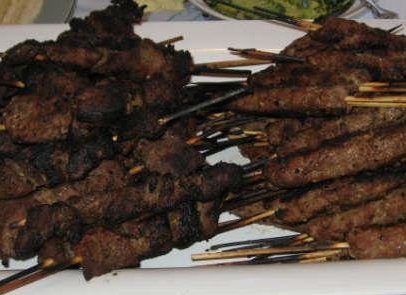 Koftah Kebab (Ground beef and lamb kebab)
2 lbs ground chuck
1 pound ground lamb
1 onion finely chopped
1 1/2 tsp salt
1tsp pepper
1/8 tsp mace optional
1/8 tsp allspice
1 tbs tomato sauce
2 tbs lemon juice
2 tbs bread crumbs
Bamboo skewers soaked in water minimum 30 minutes (use 2 bamboo skewers for each koftah) yield 12 to 15.
In a bowl combine and thoroughly mix all ingredients, refrigerator for a minimum of 1 hour to marinate, longer the better. Heat B.B.Q to 400 degree.
Divide meat into meatball like portions, with wet hands shape beef around the skewers and flatten koftah to resemble a finger.
Place on a hot grill about 6-8 minutes, turning once. Test for doneness

Shish kebab
2 or 3 pounds of beef fillet or leg of lamb cubed into uniformed pieces. Allow 2 skewers per person.
Marinate beef or lamb as above (omit bread crumbs). Skewer, B.B.Q on hot grill 3-4 minutes on each side, according to desired doneness.

Not Egyptian but Optional; you may add cut onions, mushrooms, bell pepper.