Colcasia(taro roots)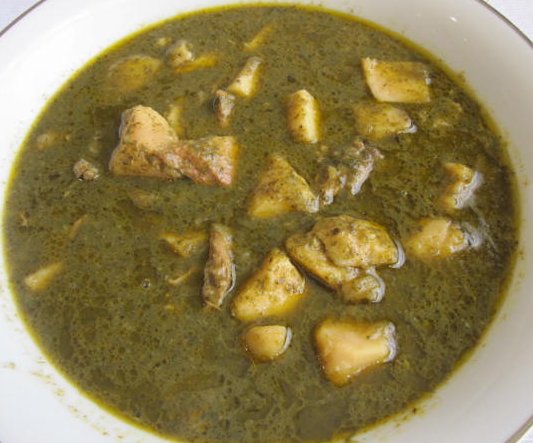 This is a wonderfully flavorful meal. The colcasia (kulkaas) has a tender, creamy consistency and the green mixture has a huge punch of flavor!
Serves 6
1 tbs ghee
1 large onion chopped
4 cups water
2 lbs lamb bone in
1 large tomato chopped or 2 tbs sauce
salt & pepper
2 mastic
1 cardamom pod cracked
2 14 oz packages colcasia*
2 tbs olive oil
1 bunch, swiss chard cleaned and removed from the stalks
1 bunch cilantro washed, stems removed
1 med size garlic head peeled
Prepare the stock
in a pot melt ghee add onion stir one minute, add water, lamb, tomato, salt, pepper, mastic and cardamom boil and reduce heat cook about 45 minutes or till lamb is tender. Add additional water if needed.
Drain broth through a sieve, you can add back the meat pieces if you like or you can fry in little ghee and serve on the side.
Add the colcasia to the broth and boil for about 7 minutes till tender but still holds its shape. Leave to simmer gently.
In a pan, heat 1 tbsp oil add swiss chard, cilantro and garlic cook on high heat till all liquid evaporates. When it begins to dry out, remove from pan and place in food processor and puree. Return back to the fry pan add remaining tbsp of oil, stir till very deep green color begins to appear, mixture will also have a very sweet aromatic scent.
Add the fried vegetable mixture to the colcasia bring to a boil for 1 more minute. Serve with white rice.
*colcasia is easily found in the frozen food section of Middle Eastern markets. Montana brand is one we like and is directly from Egypt.