Dekiah koussa (zucchini in tomato sauce)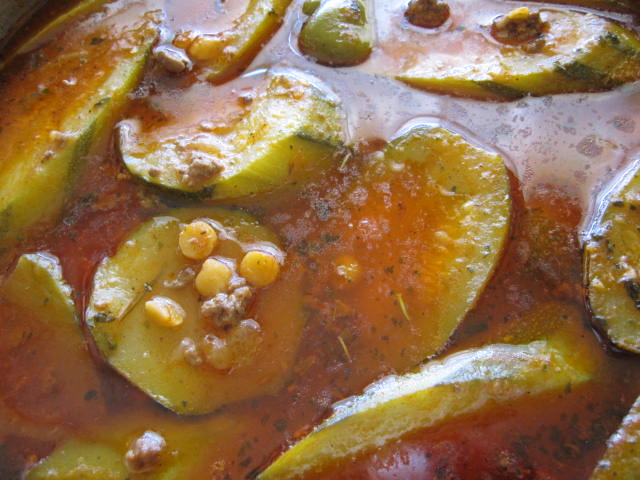 Serves 4-6
1/2 cup split chick peas washed and soaked in hot water for at least 30 minutes
2 tbs Crisco or ghee
1 med onion finely chopped
2 crushed garlic cloves
salt pepper
1/4 tsp allspice
1/2 lb ground beef or stew pieces
1 8oz can tomato sauce
3 cups water or broth
2 pounds of zucchini washed and cut onto 1" diagonal
1/4 tsp crushed dry mint
Pre heat oven to 400
in a pot melt Crisco or ghee add onion cook till onion is translucent then add garlic stir for few seconds add salt, pepper, allspice and beef. Stir till well incorporated. Add split peas and 1/2 cup water bring to a boil then simmer till peas are tender and meat is cooked. Add tomato sauce and 2 cups water, boil then simmer till sauce has thickened a bit. Place sauce in a baking dish, add the zucchini slices, mint and cover with remaining water. Place in oven and bake for 20 minutes till zucchini is tender. Serve with toasted rice (see recipe) and salad.
If you cooked with this with ground beef you can serve with additional plate of kebab hellah (see recipe under meat).