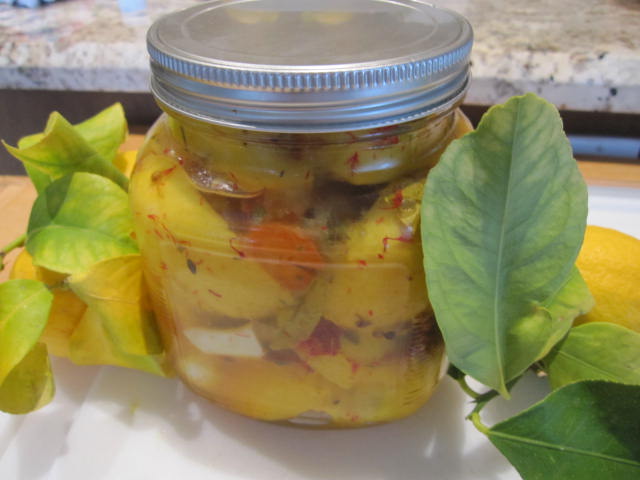 Lamoon Mikhalal (Preserved lemons)
16 lemons
Mason jars, sterilized
3/4 cup kosher salt
1 pack of pickling spices
1 tbs of saffron threads
1/4 tsp of red pepper flake (optional)
1/2 cup lemon juice
1/4 cup of vinegar
Oil to cover top of jar
Few spears of carrots, jalapeño, few garlic cloves
Clean and wash lemons, cut into quarters leaving the lemon intact.
Mix the salt, pickling spices and saffron threads, stuff into each lemon about ¼ tsp of the spice mixture.
Place lemons into sterilized jars packing very tightly.
Cover with the lemon juice ,vinegar and oil. Lemons should be totally submerged, add remaining ingredients. Close lid tightly and place in a cool place for about 4 weeks, keep refrigerated once opened. Use as an accompaniment to meza (appetizers) dishes or use to make lemon chicken. A bit goes a long way as this is very flavorful.