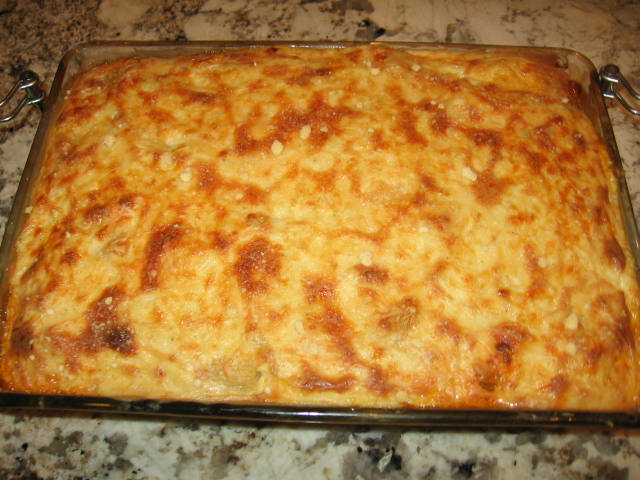 Macarona fil forn (baked macaroni with white sauce)
This dish is popular through out the Mediterranean. We may call it by different names,
add a bit more of this or that, maybe even use different pasta's but, in the end it's essentially
the same delicious and filling dish.
Serves 8
1 lb *pastitsio noodle or rigatoni
1 tbs Crisco
1 medium onion diced
3 garlic cloves minced
1 lb ground beef
1 26 1/2 oz can tomato sauce
salt & pepper
1/2 tsp oregano
1/2 tsp basil, dried (optional)
1/2 tsp red pepper flakes (optional
butter or butter spray (for baking dish)
1/2 cup bread crumbs
1/2 cup grated parmesan cheese
ingredients for béchamel sauce(white sauce)
3 tbsp butter
1 tbsp Crisco
3/4 cup flour
salt & pepper
4 1/2 to 5 cups milk
2 cup grated mozzarella cheese
1 egg
preheat oven to 350
béchamel sauce
in a heavy saucepan melt the butter, add flour salt and pepper, stir continuously on medium heat
till flour has cooked through, color will be pink and have a nutty aroma, about 7 minutes
(be very careful this needs to be watched and can burn easily). Once you have achieved the pink color
add the milk slowly while stirring vigorously, bring up to a boil then reduce to low continue
cooking/stirring till thick and flour has completely incorporated into milk approx. 15 min.
Add cheese continue stirring vigorously. Temper the egg by adding a bit of the sauce into the egg
and stir a bit, add the egg into the béchamel sauce, give a couple of stirs till incorporated. Set aside.

Cook pasta per package directions, pasta should be al dente.

In a large pan add Crisco and onions cook over medium heat for about 2 minutes.
Add garlic and ground beef, cook till beef has browned. Add tomato sauce, salt,
pepper, oregano, basil and red pepper, cook on medium heat till mixture is thick and bubbly.

In a 9x12 buttered oven proof baking dish, sprinkle bread crumbs to coat entire dish.
Add half the noodles and about 1 cup of the béchamel sauce, gently stir to incorporate.
Add the entire meat mixture, smoothing over the entire dish. Add remaining noodles,
and then top off with remaining béchamel. Smooth entire mixture, covering all the noodles with the sauce.
Insert a soft spatula all around the rim of the dish, creating space so the sauce may penetrate
the bottom of your dish.
Sprinkle with parmesan cheese and bake for 50 to 60 minutes till golden and bubbly.

*Pastitsio noodles can be found at most Arabic or Italian markets. This pasta is long,
like a spaghetti but about 4 times the thickness and hollow in the inside (see picture).
If you cant find pastitsio you can use rigatoni.