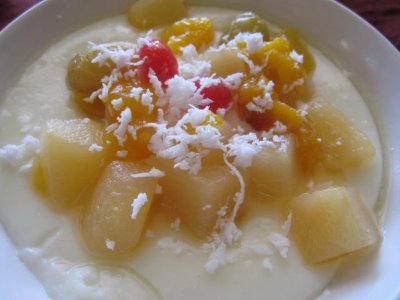 Mahallabiah bel mastic kishk el fokaraa (milk pudding with mastic)
1 tsp butter
2 - 3 mastic
31/2 cups whole milk
1/2 cup half & half (whole milk is optional)
1/4 sugar more or less according to taste
4 tbs corn starch mixed in about 1/4 cup of cold milk
for garnish
1 small can fruit cocktail or fresh grapes and orange segments
2 tbs shredded coconut or ground pistachio
whipped cream
In a heavy bottom pan melt the butter and mastic. Add milk, half & half, sugar and corn starch bring to boil, stir continuously and be careful that it doesn't boil over. Turn the heat down and simmer for about 20 minutes stirring regularly as not to scorch bottom. Remove from heat when mahallabiah has thickened (milk will coat the spoon), it will continue to thicken as it cools.
Divide into serving bowls allow to cool (cover tightly with plastic wrap to avoid a thick crust), refrigerate. Before serving, garnish with whipped cream, coconut or pistachios and the fruit salad, serve very cold.