Mahshi (stuffed vegetables)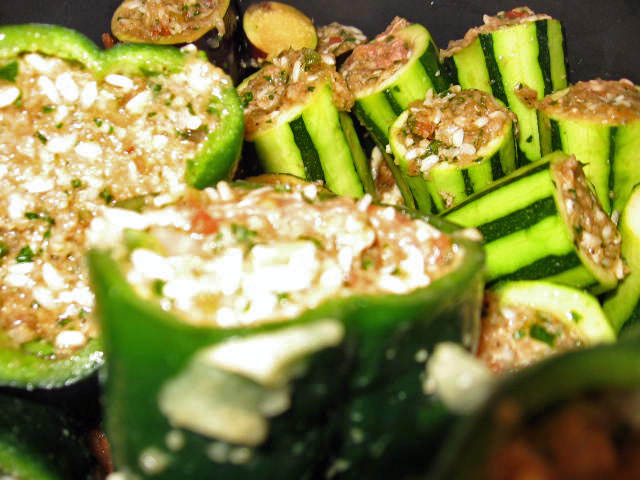 Serves 4-6
2 bell pepper (preferably pasilla, has a bit of heat)
4 zucchini
4 small eggplants (japanese,a slender eggplant)
2 tomatoes
1 large onion chopped
salt
1/2 tsp pepper
1/2 tsp cumin
1/2 tsp allspice
1 bunch parsley (finely chopped and stems removed)
1/2 tsp dry mint
2 cloves of garlic finely minced
1/2 cup vegetable or olive oil
1 pound of ground beef
1 cup of med. Grain rice (calrose)
1 cup salted hot water +
juice of 1 lemon

prepare vegetables, peel zucchini and hollow with the peeler.
Repeat above step with eggplants. Remove the stem of the pepper and clean the inside from the seeds.
Remove the stem from the tomatoes and gently remove the seeds and reserve. Submerge all vegetables in salted water.

In a bowl mix the onion with salt, pepper, cumin and allspice, use your hands and give a good squeeze.
Add the parsley, mint, garlic oil meat, and rice add the tomatoes you have reserved, mix well to combine.

Remove vegetables from water and drain, stuff vegetable with meat mixture, don't over stuff or stuff too tightly.
Arrange in a pot large enough to contain all the vegetables snugly cover the vegetables directly with an inverted
small/salad plate, this will keep your vegetables and stuffing in place. Cover with salted water; bring to
boil add the lemon juice. Place lid on pot and simmer for about 45 to 60 min till done. If needed add more water in
small amounts. Allow to cool a bit before plating and serving.

Bon appetit!
Note, this isn't a picture of the actual dish, not sure why I don't have one! Next time