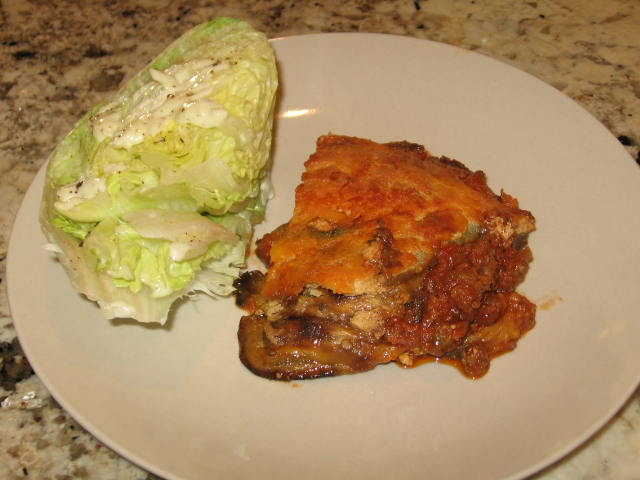 Mousaka bil béchamel (eggplant in white sauce)
2 large eggplants firm and shiny
1 large bell pepper
1 chili pepper (optional)
olive oil
1 large onion finely chopped
1 pound ground beef
salt & pepper
a pinch of allspice & nutmeg
5 gloves of garlic sliced
8oz tomatoes sauce

béchamel sauce
1 tbs ghee* or Crisco
1/4 cup flour
1 to 11/2 cup milk
salt & pepper
1/4 tsp nutmeg
1 egg
1 cup mozzarella cheese
1/4 cup parmesan cheese
turn on broiler (for eggplant), then place oven at 350 (bake)
slice eggplant into 1/2 inch pieces (lengthwise) and soak in salted water, slice bell pepper and chili (optional). In a baking pan place vegetable slices and drizzle with oil place under broiler till nice and red about 5 to 7 min, turn to the other side continue to cook. Do not burn.
In a sauce pan heat1tbs olive oil add onions and cook for 3 min, add ground meat, spices stir occasionally till cooked. Add garlic and stir 1 min add tomato sauce and cook for about another 5 min. Set aside.
Prepare the béchamel: in a sauce pan melt ghee or Crisco add flour and stir till pink in color and nutty smelling (this can burn very easily). Add salt, pepper and nutmeg. Take of the stove and with a spoon first mix in a little milk and beat rapidly till there are no lumps, add the rest of the milk and beat, go back to the stove and boil on a medium heat till cooked (again be careful not to burn). The sauce needs to be of a nice creamy consistency so add some more milk if it's too thick.
In a baking dish, layer 1/2 the grilled eggplant top with meat mixture, cover with the remaining eggplant and the peppers. For the béchamel beat one egg, add a little of the béchamel to temper, beat vigorously then add it to the rest of the béchamel add a cup of parmesan cheese and mix. Top the mousaka with the béchamel sauce and with parmesan cheese and bake at 350 for 45 to 60 minutes till bubbly and red on top, bon appetite!

*ghee is easily found at Arabic or Indian markets.