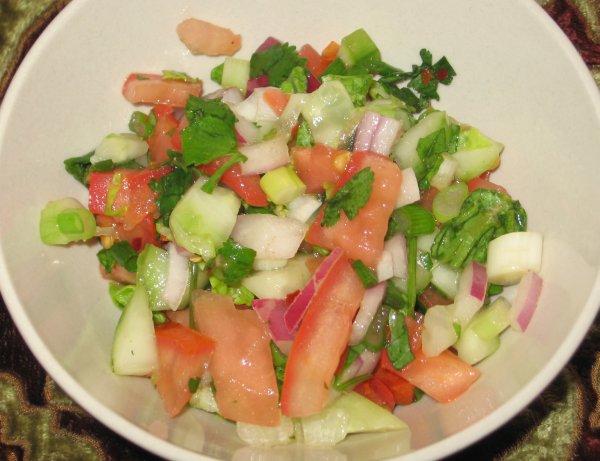 Salata balady (Egyptian green salad)
This salad is commonly served in Egypt, all vegetables listed are not required, use what you have on hand and what you like, but the arugalla and radishes do give a nice bite. The real key to the salad is the size of the vegetables, sliced small and the dressing is big on flavor!
Arugalla
lettuce
cucumber
tomatoes
radishes
parsley
carrots
onion red/green/yellow
jalapeño (optional)
1/2 cup olive
1/4 cup of vinegar
juice of 1/2 to 1 lemon
1 tsp cumin
1/2 tsp cayenne pepper
1/2 tsp red pepper flakes (optional)
salt & pepper
chop all vegetables into small 1/2 inch pieces, finely chop parsley.
Combine oil, vinegar, lemon, cumin, pepper, pepper flakes, salt and pepper (adjust to taste) mix well and pour over salad, toss. This is a very vinegary, lemony flavorful salad, nothing shy about it, the dressing should pop in your mouth and be generous with the arugalla. No real measurements here, everyone does it a bit differently, some more of this a bit less of that, to your liking. But, as mentioned it isn't a shy demure salad!