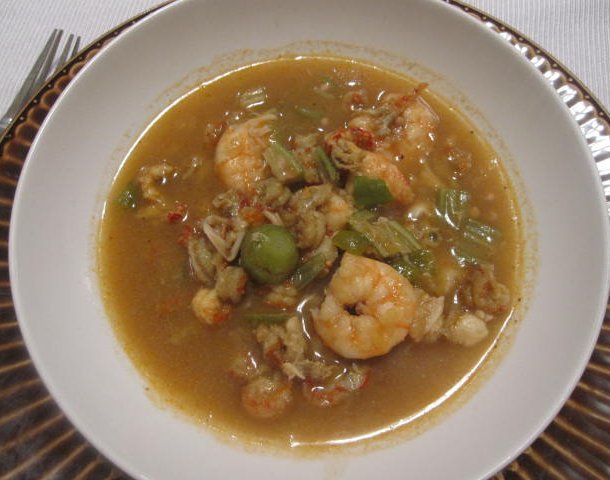 Helen's seafood gumbo
This recipe was given to me by my two adopted sisters Joanne and Pat. This was their mom's gumbo recipe.
Serves 12-15
broth
4-5 lbs shrimp in shell
water
remove shell and tails place in a medium size pot cover with water and boil for 10 minutes. Refrigerate shrimp. Strain broth and set aside.
Roux
1/2 cup oil
1 cup flour
to an 8 quart pot add oil and flour stir continuously on medium heat till you roux is deep brown, be very, very careful not to burn. You may need to add additional flour to obtain a creamy consistency.
Remaining ingredients
water
4 shrimp bullion cubes
1 cap full crab boil (optional-this will add a bit of spice)
2 large onions finely chopped
tonys creole seasoning to taste
1 tsp old bay seasoning
1 lb cut okra
3 lb craw fish meat
1 1/2 lbs crab meat (canned or fresh)
1/2 lb fish fillet (optional)
to the cooked roux add the shrimp broth and water for a total of 15 cups combined. Stir well till roux and liquid are incorporated. Add bullion cubes, crab boil, and onions and bring to a roaring boil. Add tonys seasoning, old bay and okra continue boiling for 15 minutes. Add shrimp, craw fish, crab meat (if using canned crab, add liquid) and fish. Adjust heat to medium and allow gumbo to gently boil for 15 to 20 minutes. Serve with white rice.
Laissez les bons temps rouler (let the good times roll!)