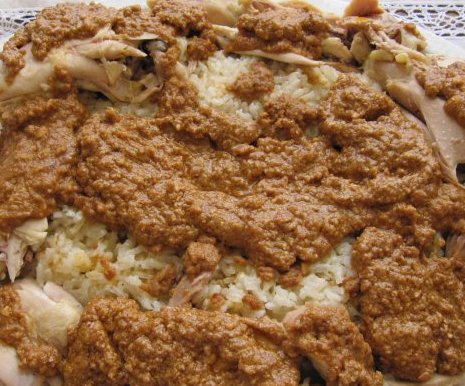 Sharkasiah (chicken & rice in walnut sauce)
This is very suitable for a dinner party, it does have many steps but you'll find that it all comes together simultaneously! Don't be afraid, the result is well worth the effort. This is a very special and unique dish which isn't widely found in Egypt due to its Turkish origins, not all Egyptian families even know of this dish.
Serves 6
Chicken
1 large boiling chicken
1 large onion quartered
1 tomato quartered
2-3 pieces mastic
1-2 cardamom pod cracked
salt & pepper
2 cups of prepared broth or 2 chicken bullion cubes
rice
2 to 3 cups of rice short grain
5 to 7 cups of broth
1 tbs ghee
salt to taste
sauce
1 loaf of italian bread
1/2 cup milk
2 tbs of ghee divided
1 small onion finely chopped
1 tbs paprika divided
2 tbs tomato sauce
1/2 pound walnut chopped very finely in the food processor
2 to 3 cups of broth
salt & pepper
1/2 tsp hot chile (optional)
1 head of garlic minced very finely
1 tbs of coriander
1 tbs walnut oil (optional)

prepare the broth, wash the chicken inside and out put in a 5 quart or larger pot and cover with water add the onion and tomato. Boil and remove scum. Add the cardamom, mastic, salt and pepper add more water if needed. Boil gently until cooked, add the additional broth or bullion, you need to have a very full flavored broth
meanwhile trim the crust of the bread and discard, soak bread in milk.
Remove the chicken from the pot and drain the broth through a sieve to remove all particles. You need at least 9 cups of broth.
Prepare the rice, rinse rice several times. In a large pot add the broth and ghee (a ratio of 2 1/2 cups broth to every cup of rice) bring to a boil and add rice. Gently boil till cooked, adjust salt. This rice should be soft and of a porridge like consistency.
The sauce, in a medium size pot melt the ghee add onion and cook for about 1 minute, add 1/2 tbs of paprika. Remove the bread from the milk squeezing to remove excess liquid. Add bread and tomato sauce to the onion mixture along with the walnuts stir on medium heat for about 30 seconds. Add about 3 cups of broth and mix very well. Reduce heat and let it cook for approximately 30 minutes till you have a rich tasting and thick sauce similar to a tahinah thickness. Add more broth if needed.
Finally, in a small saucepan heat 1 tbs ghee, the remaining paprika, chile, salt, pepper , crushed garlic and the coriander, stir till fragrant and browned lightly add to the walnut sauce, stir in walnut oil (optional).
To serve, cut the chicken into portions or quarters to your liking it will be very soft so remove the skin and the bones
place the rice on to a platter make a well in the middle arrange the chicken around the rice ladle some of the sauce on top of the chicken pieces, then ladle some in the well. Place remaining sauce in a bowl and serve separately, enjoy!