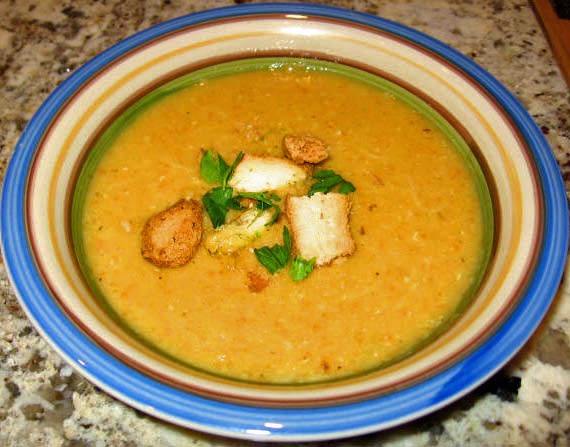 Shorbet addes (lentil soup)
For me lentil soup is very much comfort food, and great on a cold night. A very healthy and satisfying meal within it self!
Serves 6-8
2 cups lentil (yellow/orange)
2 medium potatoes quartered
1 large onion quartered
4 large garlic cloves roughly chopped
1 tomato quartered
1 medium carrot roughly chopped
salt and pepper
6-7 cups water
2 tbsp butter
2-3 sprigs of cilantro or flat leaf parsley finely chopped (optional)
lemon (optional)
Additional ingredients
1/4 cup olive oil
1 medium onion chopped
1 3/4 tsp cumin
2 tbsp butter
wash and rinse lentils very well.
In a large pot add all ingredients and enough water to cover.
Bring to a boil, reduce heat cover and allow to simmer for about 45mins (add more water as needed)
until all ingredients are very tender.
Remove from heat and allow cooling a bit. Once cooled put through a food mill or use a hand blender.
In pot (same pot used for soup) heat oil adds onion, cumin and cook over medium high till fragrant and lightly golden.
Add lentil soup to the onion mixture, stir well and bring to a gentle boil for about 7 minutes. Stir soup and
add water as needed, the soup should have the consistency of tomato soup. Check seasoning.
Add butter, give a good stir to incorporate, add cilantro or parsley (optional).
Ladle into bowls and give a squeeze of lemon (optional). serve with dried//toasted pita bread or rice.
This recipe can easily be cut in half.