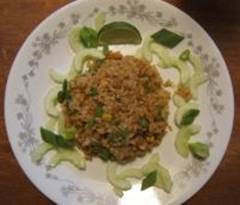 Khao phad jay (thai vegan fried rice) recipe courtesy of Peter, thanks!
Feeds loads, it is after all 6 cups rice....

Fried rice with no eggs, no fish sauce, and no meat, lots of Thai flavor from pepper, garlic, and a bit of curry paste. This is a typical dish of a Thai Buddhist festival in the autumn, which people celebrate by eating only vegetables for a week. Moderately peppery.

6 cups cooked long-grain rice
2 tablespoons vegetable oil
3 tablespoons coarsely chopped garlic
1 small onion, finely chopped
1/2 teaspoon fresh ground black pepper
6 ounces green beans, diced
4 ounces fresh or frozen corn kernels
2 tablespoons light soy sauce
2 teaspoons thai green curry paste

garnish
scallions
cucumber, peeled, sliced in half with seeds removed if they are watery
lime

prepare the garnishes: cut the scallions on a slight diagonal into 1-inch lengths, cut the cucumber into very thin slices, cut the lime into wedges; set aside.

• heat a wok or large frying pan over high heat and add the oil.
• when the oil is very hot and slightly smoking, add the garlic, onion, and black pepper and stir-fry for 2 minutes.
• add the green beans and corn and continue to stir-fry for 3 minutes.
• add the cold cooked rice and stir-fry for 5 minutes.
• add the soy sauce and curry paste and stir-fry for 2 minutes.

Garnish with the scallions, cucumber, and lime, and serve hot.

Variations:

Try a yellow Muslim curry paste which will add an aromatic essence.
To take it from vegan to vegetarian use a bit of fish sauce and reduce the amount of light soy to accommodate the saltiness.
Egg fried rice is made similarly. The egg is added early to the pan/wok and stirred in the wok to slightly undercooked. Then the beans etc.
For true spiciness add a chopped bird's eye chilie to the heating oil stage.